Rubber Door Seal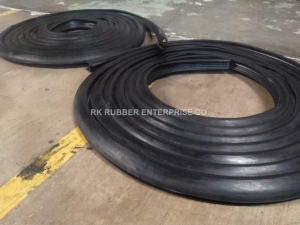 Rubber door seal has been part of many manufacturing companies, especially the automobile industry. Its general purpose is to prevent water/wind leakage, which may cause an electrical or mechanical problem to the vehicle. Combining high-grade lightweight materials and excellent sealing properties makes it more durable and dramatically increases its life expectancy. We've also been manufacturing and supplying various industries nationwide for a long time so that you can be assured of the quality of RK Rubber Philippines' products and services. As seen in the photos below, we made lots of d-shape door seals for our clients, and by providing your specification to us, we can fully customize your door seal to suit your needs. We ensure the quality of materials to every rubber product we create to deliver excellent quality from our clients up to its end users.
History of Rubber Door Seal
Rubber door seals have been around for centuries, but the modern rubber door seal was not patented until the 1920s. Prior to that, rubber door seals were made from natural rubber. In the early 1900s, the rubber industry experienced a shortage of natural rubber, which led to the development of synthetic rubber. Today, many synthetic rubber door seals are available, including silicone, acrylic, and urethane. Today, many silicone door seals are available in vinyl, a type of flexible polymer. If you need to replace the rubber seal on your garage door, it is best to install the replacement with the original equipment manufacturer (OEM). These companies typically provide specific instructions and hardware for their products.
Different Types of Rubber Door Seal
There are many different types of rubber door seals on the market. Some of the most common are the T-shaped, U-shaped, and V-shaped door seals. The T-shaped door seal is the most popular type of door seal because it is easy to install and effectively seals noise and weather. The U-shaped door seal is also famous because it is very effective in sealing noise and weather, but it can be difficult to install. The V-shaped door seal is not as popular as the other two types, but it is still effective to seal noise and weather.
Installation
Installing a rubber door seal is an easy way to improve the airtightness of your home. This sealant is designed to prevent drafts and moisture accumulation inside your home. Follow these simple steps to install your seal:
1. Remove any old door seals with a screwdriver or a knife.
2. Apply adhesive to the edges of the seal and place it in the gap between the door and jamb.
3. Place the door in position.
4. Using a hammer and a woodblock, tap the door on the jamb until the seal is pressed firmly into place at all four corners of the door opening.
5. Make sure the seal is not twisted and check that it is flat. If necessary, use a rubber mallet and woodblock to tap the seal.
Features of Rubber Door Seal
Prevent leakage – seal every window or door, whether it is for commercial, residential, or automotive usage.
Reduce impact – when closing doors or windows, significantly minimize the noise and effects.
Noise reduction -door seal, also acts as a sound isolation tool, significantly reducing the noise coming from outside.
High-quality – made from high-grade compound materials; EPDM, Natural Rubber, SBR, Synthetic, and more…
Even dirt or dust cannot penetrate the sealed area if installed correctly.
Flexible mounting solutions – easy to install and different mounting options
Outstanding resistance against water, oils, chemicals, corrosion, and UV
Can handle any weather conditions
Perfectly molded for doors and windows.
Zero performance loss even at the lowest or highest temperatures.
Don't hesitate to contact our sales team to know more about the rubber door seal and other customized rubber products.
Quick details of Rubber Door Seal
Application Type: Automotive, Civil Engineering, Mechanical Engineering
Civil Engineering, Industrial, Commercial, Aerospace, Food Industry,
Pharmaceutical and Residential
Material: EPDM, Nitrile, Silicone, Neoprene, etc.
Color: Plain Black; Color may vary depending on your application
Variants/ Type: May vary on the specification
Purpose: Sealing, Impact & Noise reduction
Below are some of the actual products and applications.