Rubber Rollers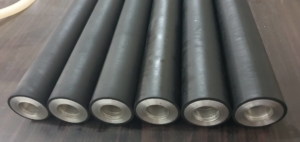 Innovation is our mandate to manufacture our rubber products to ensure our products' quality and durability. One of them is the rubber rollers that we extensively produce, especially for industrial and manufacturing companies in the Philippines. Our machines can meet your needs for custom molding rubber rollers, including precision sleeves, balancing, and engraving when making them. Not only is custom molding our forte, but we can also repair your damaged rollers. But of course, it depends on the damage. What is usually done with broken rollers is replacing the rubber surrounding the core part. RK Rubber Philippines can complete the project on time without sacrificing the quality of our product. Texture, color, and the rubber rollers' dimensions may depend on your specification; please contact our sales team for more details.
Features of Industrial Rubber Rollers
Its adhesive is strong and lightweight

Excellent resistance to heat

It goes through intense compression stress, so durability will not be a problem

Anti-static

Thermal conductivity

Very smooth surface, for superior performance

Can provide a consistent surface for rolling products
Different Applications
Industrial rollers

Mechanical – Mechanical rollers have been used for various industrial and commercial purposes. They are a simple and efficient way to move objects without the need for human power. Mechanical rollers are also relatively inexpensive to operate and maintain, making them an ideal solution for a wide range of applications.

Packaging – Rollers are an essential part of any packaging system. They help compact the product and keep it from becoming crushed during shipping or storage. Additionally, rollers can also help to keep the product evenly distributed within the packaging system.

Conveyors – rollers are widely used in conveyor systems, especially in warehouses and airports. They use the elasticity of rubber to move the material along the conveyor belt. The rubber provides a smooth motion that resists friction and wears.

Printing rollers – are a type of printing press used to print documents and images. The printing process often requires rubber rollers to create smooth lines and edges on the final product. These rollers are also essential for printing large quantities of documents quickly and efficiently.

Food processing – rollers have been beneficial in the food processing business. They are ideal for applying consistent pressure to various surfaces, which helps produce high-quality food products. Rubber rollers are also non-stick, so they do not leave any residue on the surface to which they are applied.

Lamination rollers – It's a popular choice for lamination due to their smooth and consistent surface to produce a high-quality lamination. They are also affordable and easy to maintain, making them a good option for small businesses.

Plastic and Paper processing – Rubber rollers have been used in plastic and paper processing for a very long time. They are versatile and can be used to do a lot of different tasks. Rubber rollers are often used to stretch or compress materials. They can help to make products more consistent and durable.
Manufacturing Process
Industrial rubber rollers are made by combining a synthetic rubber compound with other materials to create a durable and long-lasting roller. The rubber compound is mixed with a filler, such as carbon black, to create a robust and hard roller. The mixture is then poured into a mold and allowed to cure. After curing, the roller is machined to the correct size and shape. Finally, it is polished and ready for use.
Types of Industrial Rubber Rollers
There are many different types of industrial rubber rollers. They can be divided into two categories: static and dynamic. Static rubber rollers are used for applications where the media is not in contact with the roller, such as printing and coating. Dynamic rubber rollers are used for applications where the media is in contact with the roller, such as web processing and paper processing.
Dynamic rubber rollers can also be classified by solid or hollow construction. Solid rubber rollers are made from a single piece of rubber and are used for low-speed applications. Hollow rubber rollers have a metal core surrounded by rubber and are used for high-speed applications. Each type of rubber roller has its own set of advantages and disadvantages.
Maintenance
Industrial rubber rollers are an essential part of many manufacturing and processing plants. They are used to convey or process materials and must be maintained to operate effectively. A few key things should be done regularly to keep them in good condition. The first thing to do is to check the condition of each rubber roller. It is essential to know if any cracks or defects may cause damage. A person must have the right tools and equipment on hand for this to be done. Many tools are available, both online and at local hardware stores. The right tools will help a person inspect the rubber rollers for cracks, tears, and defects. Roller bearings may need to be replaced if they have become worn out.
In conclusion, industrial rubber rollers can provide many benefits for businesses. They can help improve production efficiency, reduce manufacturing costs, and improve product quality. If you want to improve your business operations, consider using industrial rubber rollers.
Rubber Rollers Quick Details:
Application Type: Industrial, Food industries, Agriculture, For Manufacturing, Mining, Packaging industry, Aerospace, Construction, Electronics
Material: Synthetic Rubber, Natural Rubber & Silicone Rubber
Color: Black; this may vary depending on the client's preference
Variants/ Type: Laminator, feed, printing, industrial rollers, and more…
Purpose: For manufacturing various products.
Below are some of the actual products and applications.