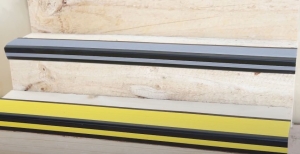 A rubber stair nosing is a strip of rubber installed on the stair's leading edge. The nosing aims to provide traction and prevent slips and falls. The nosing also protects the edge of the stair from wear and tear. Many types of rubber stair nosings available on the market may vary in thickness, width, and length. Some have an adhesive backing, while others must be nailed or screwed.
The most important consideration when choosing a rubber stair nosing is to ensure it is compatible with the type of flooring you have. For example, if you have carpeted stairs, you will need to choose a nose with a lip extending over the edge of the carpet. This will prevent the carpet from unraveling at the edges.
Our rubber stair nosing increases the lifespan of the stairs because it protects them from any potential damage. It improves the stairs' safety due to its 100% non-slip surface and resistance to fluids like oil, water, and chemicals. It will also help people with poor eyesight see the staircase, so having a robust design is necessary. A rubber-type nosing is more effective and provides extra grip than an alloy or metal. We are not only inclined to produce the best rubber product in the market but also prioritize the safety of our clients and their customers. One of the common mistakes of other rubber manufacturers is that they're not following the safety standard in making a product, which often results in an accident. 
Here at RK Rubber Enterprise Co., a product goes through extreme quality control, and one of them is stair nosing because it is a vital tool to protect your precious stairs and keep the person safe when stepping on the staircase.
 Kindly contact our sales team to know more about rubber stair nosing and other customized rubber-related products.
Applications of Stair Nosing
Tile stairs

Concrete stairs

Outdoor stairs

Stadium Facilities

Mass transits

Buildings

Alloy stairs

Wood stairs

Gutter

Schools and more
Benefits of Rubber Type Nosing
It is an important safety feature for any staircase, but rubber stair nosing has some additional benefits that make it an outstanding choice for many for residential and commercial usage. It can be used indoors or outdoors, providing exceptional traction in wet and dry conditions. It's also easy to install and durable, making it a popular choice for many homes and business owners.
In addition to its safety benefits, rubber stair nosing can help extend your stairs' life by protecting them from wear and tear. The added traction that rubber stair nosing provides can also help to prevent slips and falls, which can cause serious injury. It's a great choice if you're looking for a safe, durable, and easy-to-install option for your staircase.
How to Install the Stair Nosing
Assuming you would like a how-to on installing rubber stair nosing:
1. Begin by measuring the length and width of the staircase. You will need to purchase enough rubber stair nosing to fit the entire perimeter of the stairs.
2. Cut the rubber stair nosing to size with a utility knife. Use a straight edge when cutting to ensure clean, even cuts.
3. Next, apply a generous amount of construction adhesive to the back of each piece of stair nosing.
4. Starting at the top of the staircase, press each piece of rubber stair nosing into place. Continue working your way down until all pieces are in place.
5. Allow the adhesive to dry for at least 24 hours before walking on the stairs.
Features of Rubber Stair Nosing
100% Non-slip

Has good resistance to any kinds of fluids

Ultra-durable and flexible

Has exceptional resistance to corrosion

Excellent tear and wear resistance

It has good gripping properties

Different mounting solutions; adhesive or bolt-type
Rubber Stair Nosing Quick Details:
Application Type: Residential, Industrial, Pharmaceutical, Civil Engineering, Aerospace, and Agriculture.
Materials: Synthetic rubber, Natural Rubber, and Silicone
Color: Plain black, may vary
Variants: Variants may depend on the application.
Purpose: Protects the staircase when stepping on and provides a non-slip surface for safety.
Below are some of the actual products and applications.