Rubber tubing is a long hose or pipe made from metal, alloy, or rubber whose primary function is to transfer any liquid or chemical from one place to another. It is often used in harsh environments because it has excellent corrosion resistance, and it doesn't produce toxic fumes when used. This makes it a popular choice for industrial, residential, and civil engineering applications. Some typical applications for rubber tubing include transferring hazardous liquids and chemicals, moving water in irrigation systems and plumbing, and conveying air in ventilation systems. Lightweight rubber tubing act as simple pipelines intended for commercial and residential usage. You will see a lot of heavyweight and large-scale rubber tubing in industrial settings, whereas they are one of the vital foundations of a building or structure.
In RK Rubber, we offer a large scale of rubber tube products in the market, whether for the automotive or chemical sectors. We can provide what you need.
PVC

 Rubber Tubing

Neoprene

Silicone tubing

Viton tubing

EPDM tubing

Latex

Customized rubber tubing
Don't hesitate to contact our sales team for more information about the rubber tubing.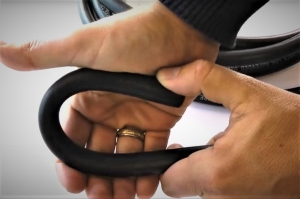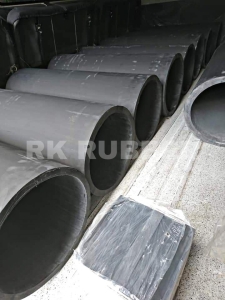 Different Applications of Tubing
Various uses for rubber tubing include medical tubing, food and beverage tubing, automotive tubing, aircraft hose, plumbing connectors, construction material, medical supplies, and more.
Medical tubing is often used in hospitals, clinics, and other medical facilities to connect IV bags and intravenous lines. It comes in various diameters, lengths, and thicknesses, depending on your line type.

Food and beverage tubing Food and beverage tubing connect various types of pumps, ice makers, dispensers, coffee makers, and other appliances. It can be found in multiple colors, sizes, and thicknesses tailored to your specific application.

Hose fittings are most commonly used to connect tools, machines, and other appliances. It comes in a variety of colors and sizes for your specific application.

Pipes are often used in construction to transport water and oil from one location to another. They come in a variety of sizes and are available in different materials to suit your needs.

Tubing creates flexible, non-corroding connections between machinery, tools, appliances, and other similar objects.
Advantages of Rubber Tubing from Metal Type
Affordable and effective – more affordable than using or buying a metal type tubing; acquiring a metal will always be based on the weight and type of metal used.

Flexibility – rubber tubing is more flexible than metal tubing regarding its functionality and availability.

Less maintenance – yes, this is true because every rubber tube we offer has substantial resistance in all weather conditions.

Easy to install – because of its weight, the rubber tube can be installed easily without using any machine for lifting.

Metal tubing is the traditional material used in manufacturing tubes. However, rubber tubing offers several advantages over metal tubing.

Rubber is more flexible than metal so that it can be easily bent into shapes for routing and installation.

More resilient than metal and can better absorb shocks and vibrations.

Significantly more resistant to fatigue and cracking than a metal tubing 
Features
Exceptional tearing and abrasion resistance


Sturdy and flexible – it will not deform easily.

It can handle high temperatures to maintain its safety.

It can hold massive explosions caused by chemicals.

Has an outstanding chemical and corrosion resistance.
Made from high-grade compound materials.
Don't hesitate to contact our sales team to know more about the rubber tubing and other customized rubber products.
Quick Details:
Application Type: Construction, Engineering, Automotive, Medical, Aerospace, Chemical, Plumbing, or Food Sectors.
Material: Natural, EPDM, Nitrile, Silicone, Neoprene, Viton, etc.
Color: Black by default
Variants/ Type: Silicone Tube, Neoprene Tube, EPDM Tube, Viton, and client preference.
Purpose: To transfer any liquid or chemical from one place to another.
Below are some of the actual products and applications.