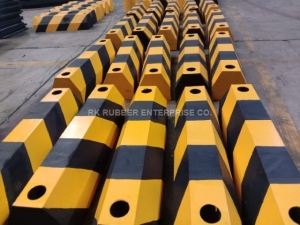 A rubber wheel guard is vital to any well-maintained car parking in any establishment. The purpose of a wheel guard is to guide the driver when maneuvering in a parking space and avoid accidents with other vehicles or properties. In recent years the wheel guard has been made of concrete, and it's very durable, especially when the concrete guard is well made. However, as time goes on, it depreciates until you see a crack and finally breaks down. Its deterioration accelerates when the parked vehicle is too heavy or overloaded, like a truck. The rubber and concrete wheel guard have the same functionality, but the cost-to-performance ratio sets them apart. The rubber type lasts longer because of its elasticity and other high-grade properties that help it be more durable. When it comes to appearance, the rubber type has a smooth surface to protect the vehicle, especially when the car is lowered to avoid severe scratches.
While concrete or asphalt wheel stops are the most common rubber wheel guard, rubber wheel stops offer several advantages.
They are softer and more forgiving than concrete, which means they are less likely to damage vehicles.

They are also more effective at absorbing impact, which helps to prevent tire blowouts and other damage that can occur when a vehicle hits a hard object.

In addition, rubber wheel stops are less likely to break or crack over time, making them a more durable option for parking areas. 
Contact our sales team for more details about the rubber wheel guard and other customized rubber-related products.
Applications of Rubber Wheel Guard
School Parking

Parking garages

Multiple Level Car Park

Underground parking

Offstreet parking

Automated parking space

Single-level parking space

Parking lots
Installation of Wheel Guard
Most parking lots have wheel guards to protect the concrete from car damage. Wheel guards are usually made of rubber and are easy to install. Here is a step-by-step guide on how to install rubber wheel guards on a parking lot:
1. Measure the width of the parking space and cut the rubber wheel guard to size. Leave enough space for the car to park without hitting the guard.
2. Place the wheel guard in the desired location and use a hammer to secure it. Make sure that the guard is level before moving on.
3. Once the guard is secured, use a drill to attach it to the ground with screws. Make sure to use screws that are long enough to go through the thickness of the guard and into the ground beneath it.
4. If you have a large parking lot and want to install wheel guards in several locations, use a metal cutter to create a template. Place the template on the ground and drill holes at each corner.
5. Place your wheel guard over the template and secure it with screws.
Features of Rubber Wheel Guard
Cost-effective; much cheaper than concrete and metal

Ultra-durable; can handle the heaviest vehicle

Excellent tear and wear resistance

Easy to maintain and replace

Has different mounting solutions

Has good visibility; yellow and black stripes design

It has excellent resistance against corrosion, UV, oils, water, and more…

Outstanding elasticity; due to its natural compound

Made from high-grade rubber materials
In conclusion, rubber wheel guard are effective in parking lots. They help to protect the wheels from damage and keep the vehicles from sliding around. They are also easy to install and remove, which makes them a good choice for parking lot owners.
Rubber Wheel Guard Quick Details:
Application Type: Parking spaces for any Commercial, Industrial Sectors
Materials: Nitrile, Synthetic Rubber, Natural Rubber, Neoprene, and Viton
Color: Plain black, Yellow & Black
Variants: May vary on the specification of the client; full or half-length in size
Purpose: To guide the driver when maneuvering in a parking space and avoid accidents with other vehicles
Below are some of the actual products and applications.