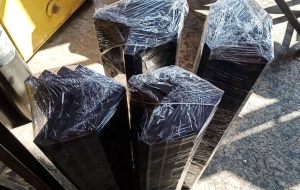 Our rubber corner guards are created using high-grade compound materials, providing long-lasting durability and high-impact resistance. These materials offer high visibility, enhancing driver safety and security. The reflective tape increases driver visibility for improved safety and security. These Guards are easy to maintain and resistant to corrosion, chemical, and weather, ideal for protecting 90-degree corners of infrastructure, equipment, appliance, and machinery from damage. Most homes have at least one corner that is vulnerable to damage. Whether it's from furniture being bumped into it or a child running into it, a corner can take a beating. That's where rubber corner guards come in.
Our rubber corner guards are also available for marine or military vehicles, typically bolted into the column. However, they can also be fixed to the column surface with an adhesive and used as basement and parking corner guards.
Types of Corner Guard
Metal Type Corner Guard – made from steel or aluminum suitable for high-impact risk areas. These materials protect any walls or equipment from impact without sacrificing the appearance of the building. It also helps many industrial or commercial buildings meet the code requirements. The stainless design will have a perfect blend and improve the interior of a building for a minimalist look while providing excellent resistance from impacts.
Rubber Corner Guard – offers the best protection for warehouses where many boxes, pallets, and equipment are brought in and taken out. However, these guards don't have many aesthetic qualities, but they will save you more in product cost and maintenance. 
Clear Type Corner Guards are very easy-to-use, and they blend in easily with any wall design. The transparent material lets the wall design show through, but it won't mask damaged wall areas. These guards can withstand impacts because of their thickness and durability. It is common in residential areas, retail, manufacturing products, and other building spaces.
Colored Corner Guard – comes in various colors and offers advantages compared to clear corner guards. You can hide the existing damage by matching its color or texture to the structure or equipment. Manufacturing companies also use it as an add-on design to improve their products.
How to Install a Corner Guard
Measure the area where the corner guard will be installed and cut the rubber corner guard to size.

Clean the surface of the wall with a mild soap and water solution.

Apply a layer of adhesive to the back of the rubber corner guard.

Press the rubber corner guard into place and hold for several seconds.

Wipe away any adhesive squeezed out from under the rubber corner guard.

Allow the adhesive to dry for 24 hours before using the area where the corner guard is installed.
Rubber Vs. Metal Corner Guard
Metal corner guards are more durable than rubber and less likely to show wear and tear over time. However, they can be more expensive than rubber guards.

Rubber corner guards are less expensive than metal ones but are not as durable. They may also show wear and tear more quickly than metal guards.

Corrosion is a major problem when it comes to metal, especially in moist or humid environments. This is why rubber corner guards are becoming increasingly popular, as they offer better resistance to corrosion than their metal counterparts. In addition, rubber corner guards are also more flexible, meaning they can conform to surfaces more efficiently and provide better protection.

Ultimately, deciding which type of corner guard to choose depends on your budget and how long you need the guard to last. A metal guard is a better choice if you need a high-quality corner guard that will last for years. But a rubber guard may be the way to go if you want a cost-effective solution to your needs.
Features of the Rubber Corner Guard
Has excellent resistance to almost all types of weather conditions

It's a perfect solution for parking garages, home garages, and warehouses

Keeps corners, equipment, machinery, and walls from damage from impact

Made of high-quality compound materials

Yellow reflective stripes increase visibility.

It can absorb high energy from impact and other form of damage

Provide long-lasting protection

Ultra-durable; the level of durability may vary on the materials being used.
Please get in touch with us to learn more about rubber corner guards and other customized rubber-related products.
Quick Details:
Application Type: Residential, Industrial, Aerospace, Manufacturing
Materials: EPDM, Natural Rubber, Synthetic Rubber
Color: Yellow and black stripes, plain black; may vary on the projects
Variants: May vary on the specification
Purpose: Protects the corner of any equipment, machinery, or a structure from impact.
Below are some of the actual products and applications.