Sanitizing Rubber Foot Mat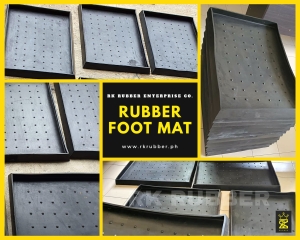 Sanitizing rubber foot mats resemble and function similarly to standard entrance mats. However, this type of mat can help us prevent the spreading of viruses and infections in different places. Having everything sanitized and disinfected dramatically reduce the risk of illness and protects our family and co-workers. We must practice sanitizing during this global health crisis because Covid-19 is a serious disease that significantly impacts people's daily lives in the Philippines. Businesses, recreational facilities, and schools have been shut down as the healthcare community deals with an unprecedented number of Covid-19 patients.
Our health workers have been struggling to find a solution to fight the viruses. That's why sanitizing is one of the essential help we can give to them to fight this global health crisis. We must use a high-quality sanitizing rubber foot mat in various places like medical offices, senior care facilities, hospitals, food service businesses, schools, daycares, gyms, and workplaces. Its also used in controlled areas like animal shelters, agricultural farms, science laboratories, veterinary facilities, fish hatcheries, and food/beverage facilities.
Basic Cleaning
Sanitizing a rubber foot mat is essential to keeping your home or business germ-free. Not only can a dirty mat lead to the spread of germs and bacteria, but it can also create a less-than-desirable aesthetic in front of your entrance. To ensure that your rubber foot mat is always clean and sanitary, follow these basic cleaning and sanitizing steps.
Begin by removing any debris from the mat, such as leaves, dirt, or bugs, by vacuuming or sweeping it with a brush.
Next, use warm water and detergent to scrub away any stains or dirt marks that may be present on the surface of the rubber foot mat.
Ensure you thoroughly rinse all soap suds before leaving them to dry in direct sunlight for at least one hour.
Using a cleaning solution
Cleaning a very dirty foot mat can be a daunting task. The most effective way to deep clean a sanitizing rubber foot mat is by using a solution designed explicitly for this purpose.
When using a cleaning solution, it is essential to remember that different materials require different chemicals or methods. Furthermore, pre-soaking may be necessary to ensure all bacteria are removed effectively if the foot mat has been exposed to large amounts of dirt or mud. To ensure maximum hygiene levels, use only cleaning solutions designed for use with mats and other surfaces prone to heavy traffic.
Features of the Sanitizing Foot Mat
Effectively remove dirt from footwear.
Has excellent resistance to any disinfectant solutions
It has a good tear and wears resistance
Anti-slip, very comfortable to step-on
Effective for commercial, office, home, food & beverage production, and other manufacturing areas
It can be filled with any disinfectant solution
Can handle any extreme weather conditions
Made from high-quality compound materials
Conclusion
In conclusion, sanitizing rubber foot mats have the same looks and functionality as entrance mats, with the added advantage of helping reduce the spread of viruses and infections. Business owners, facilities managers, and even homeowners can benefit from this innovative solution by using it in public places or their homes. By doing so, they will be able to provide a safer environment for their guests and family members while also making sure that their spaces remain clean.
RK Rubber Enterprises Co. cooperates to provide the best sanitizing rubber foot mat to meet all the requirements to suppress germs or viruses such as Covid-19. Our rubber foot mat can hold a large amount of sanitizing solution, effectively cleaning and lessening all types of bacteria from any footwear.
Kindly contact our sales team to learn more about the sanitizing rubber foot mat and other customized rubber-related products.
Sanitizing Rubber Foot Mat Quick Details:
Application Type: Commercial, Residential, Manufacturing, Food and Beverage, Engineering, and Industrial
Materials: Natural, Synthetic, or silicone
Color: Plain black; may vary depending on the specification
Variants: Sanitizing rubber foot mat
Purpose: Remove dirt and eliminate viruses and germs from footwear
Below are some of the actual products and applications.